Vitamin C Prepping Tonic – 120ml
Brightens and conditions the skin to leave it perfectly prepped.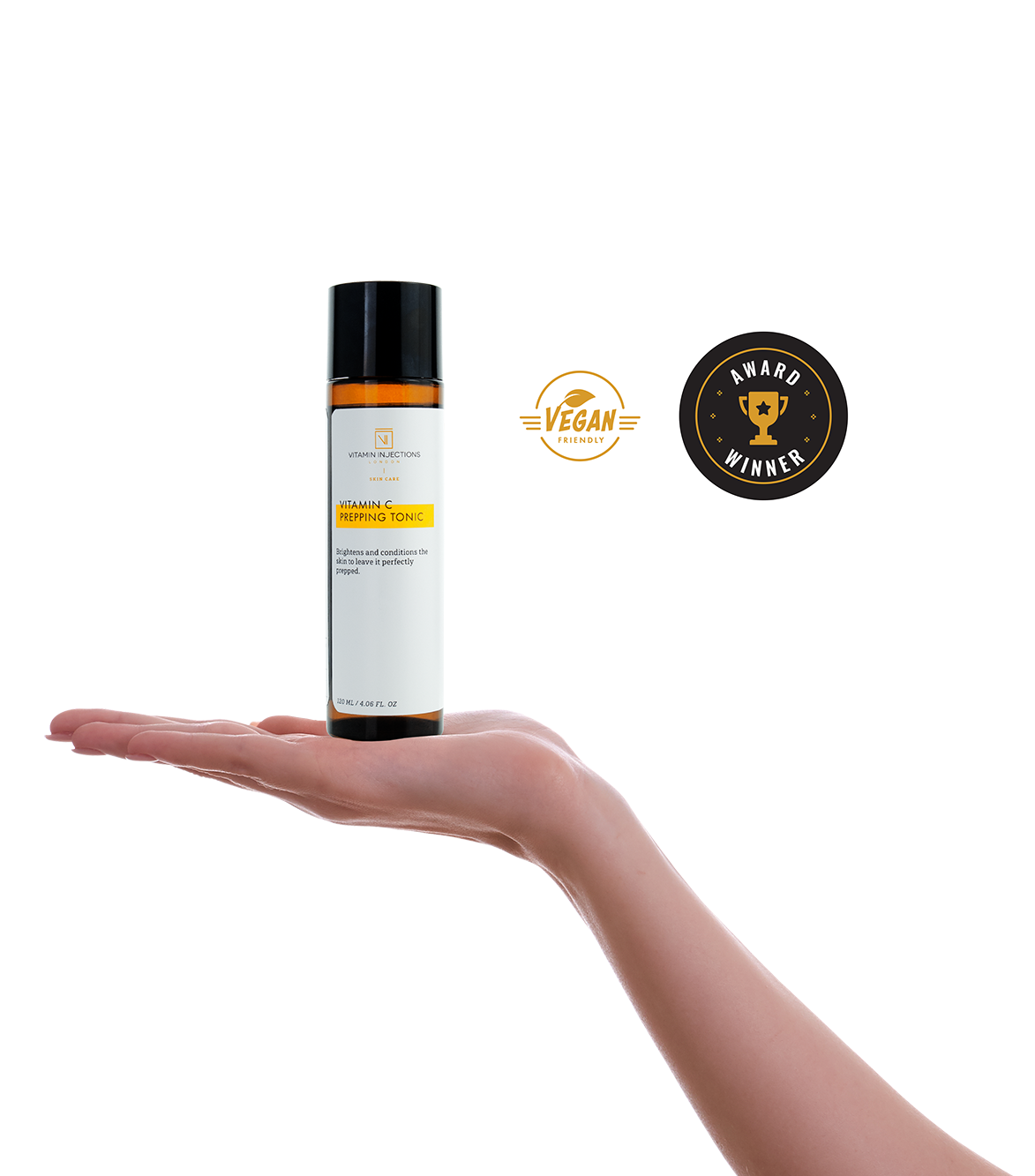 JUST ADD TONIC
Our Vitamin C Prepping Tonic includes star players Vitamin C and Niacinamide, which protect the skin against free radicals and chemical irritants. Through their powerful antioxidant activity, they have the much-needed benefit of slowing down the ageing process. The incorporation of citric acid and lactic acid into our Vitamin C Prepping Tonic resurfaces the skin, fades pigmentation and keeps oil production under control. When it comes to preventing spots, the aforementioned Vitamin C and Niacinamide strive to protect the skin against germs and dirt, which keeps it clean and free from breakouts.

This delicate formula is suitable for all skin types, including those with sensitive skin. It leaves it soft to the touch and works as a wonderful base for moisturisers, cleansers and toners. Simply apply the tonic prior to using other natural products and imbue the goodness of healthy compounds into your skin.
BENEFITS
Our Vitamin C Prepping Tonic:
- Preps your skin for other daily-use products, allowing you to get the best out of your routine
- Fights common skin issues such as breakouts and signs of ageing
- Contains Vitamin C, Citric Acid, Lactic Acid and Niacinamide that work together in order to lighten acne scars and pigmentation, restoring the skin's naturally glowing complexion
HOW TO USE
Use in the AM & PM after cleansing. Moisten a Clean Conscience Cleansing Pad before applying the product and massaging into the face and neck. Follow with the application of your preferred serum or moisturiser.
INGREDIENTS
10% Vitamin C, 5% Lactic Acid, Citric Acid, Niacinamide
GOOD TO KNOW
Use within 12 months once opened, or keep it on your vanity unopened for up to two years.
NOTE
Use within 12 months once opened, or keep it on your vanity unopened for up to two years.
makes a difference
i started using this a few weeks ago and it makes such a difference. my skin seems clearer but not dry, further products seem to go on and penetrate better and my skin just looks more polished. i now wouldn't be without it.
VIL SKIN CARE STARTER SUBSCRIPTION
CONFIDENT SKIN STARTS HERE

C The Difference Cleanser

Vitamin A Night Shift Repair Cream

Vitamin C 20% Super Serum

Vitamin Infused Face Protector SPF 30
£148 £118 FOR TWO MONTHS - SAVE 20%!