C The Difference Treatment Eye Masks – 6 Pairs
Reduce undereye puff with a bit of luxe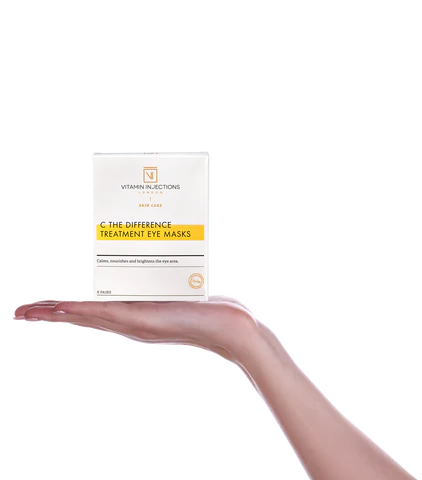 GOLDEN EYES!
Who knew that gold is an antioxidant with anti-inflammatory properties? We do, and that's why we've included it in our C The Difference Eye Masks that contain gold Nanoparticles, imbuing the skin with radiance and luminosity.

These supercharged gel Masks boost collagen production and help minimise the appearance of fine lines. They also contain Vitamin C and, when combined with the power of gold, create a remarkable lift effect in the eye area; perfect for pre-party preparations or for when eyes feel puffy and tired.
BENEFITS
Caring for the skin around our eyes requires a gentle approach, using ingredients that both protect and correct. Infused with the natural healing and hydrating powers of Vitamin C and Glycerin, our C The Difference Treatment Eye Masks reduce dark circles, fine lines and puffiness. The regular application of these natural masks brighten the undereye area and replenish the delicate skin beneath the eyes, giving you the best 'smize' possible!
HOW TO USE
Use as often as required. Open a single sachet and carefully remove the tray. Place a single mask under each eye. After 20 minutes, peel off Masks and using your ring finger, lightly massage any remaining product into the undereye area. Avoid direct contact with the eyes.
INGREDIENTS
15% Vitamin C, Hyaluronic Acid
GOOD TO KNOW
Use within 12 months once opened, or keep it on your vanity unopened for up to two years.
NOTE
Due to formulation improvements, the colour, texture, scent and appearance may vary.
Okay , but not great
They did brighten the under eye area a little though they did not get rid of any dark tired puffy circles. They are also very slippy.
Perfect eyemask!
BrIghtens lifts and smooths eye area! Love them!!!
LoVe theM!!
Great for reducing puffiness and dark circles. I love using these after a long week. Feels so good and makes me look younger.
AmazImg
Love this eye mask. Usually put it on in the eveNiNg, and just relax with it for 20 min.
I dont Even need concealer anymore!
VIL SKIN CARE STARTER SUBSCRIPTION
CONFIDENT SKIN STARTS HERE

C The Difference Cleanser

Vitamin A Night Shift Repair Cream

Vitamin C 20% Super Serum

Vitamin Infused Face Protector SPF 30
£148 £118 FOR TWO MONTHS - SAVE 20%!