Vitamin A Night Shift Repair Cream – 30ml
Reclaim your beauty while you sleep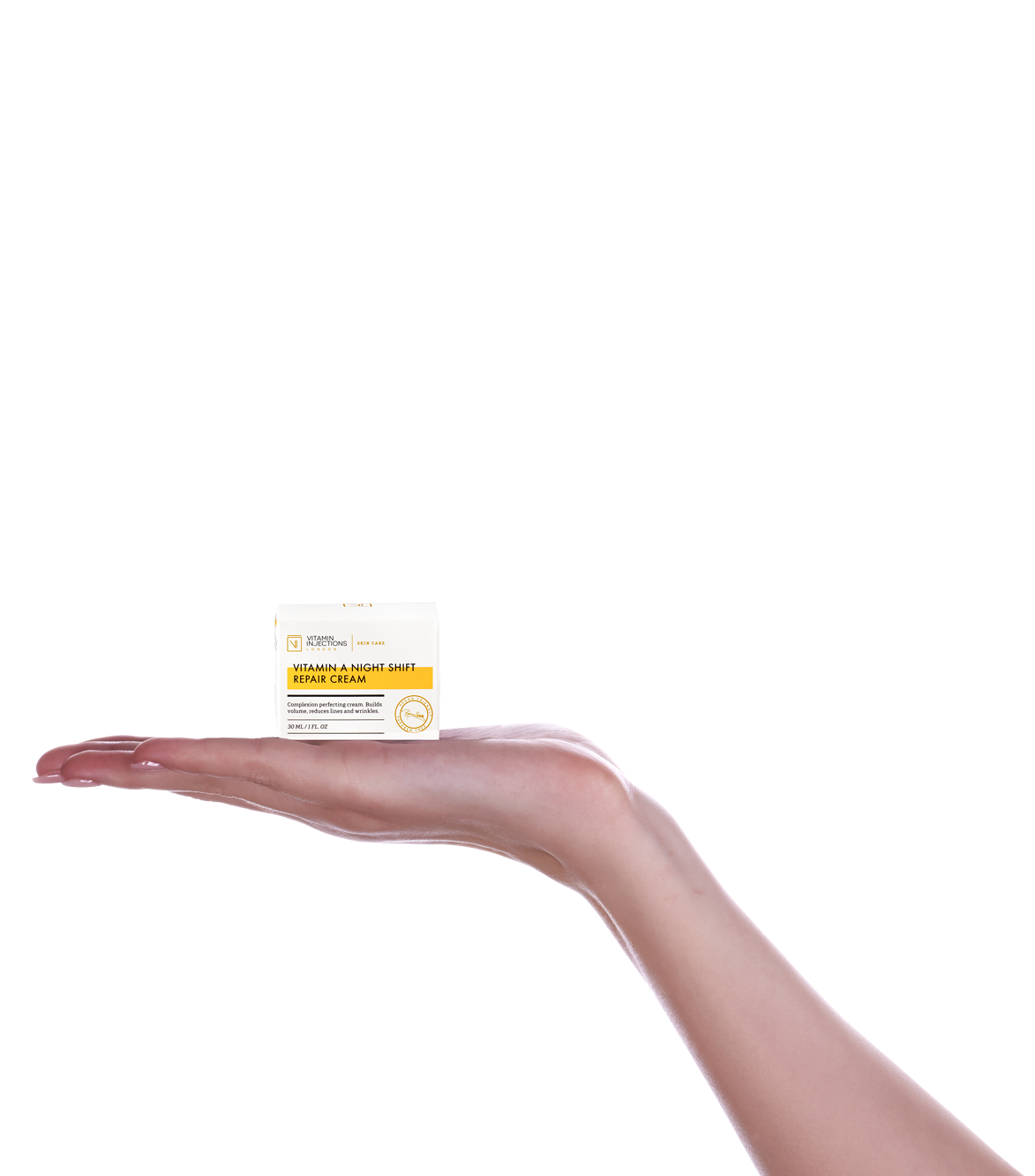 PLUMP UP THE VOLUME!
Vitamin A's impressive skincare benefits are backed by science, which is why we've given it a starring role in our Vitamin A Night Shift Repair Cream. It can unclog pores, even out skin tone and improve clarity. It also penetrates into the skin to stimulate collagen production and reduces the appearance of fine lines.

Our supercharged Vitamin A Repair Cream works hard whilst you sleep to perfect your complexion. The 2% Vitamin A Retinol works alongside 5% Glycolic Acid and 5% Lactic Acid to resurface the skin, reduce fine lines and leave your complexion glowing.
BENEFITS
Wake up to clearer and healthier skin with minimal effort required! By boosting collagen levels and reducing the appearance of fine lines and wrinkles, our Vitamin A Night Shift Repair Cream works hard whilst you enjoy your beauty sleep. Loaded with the powerful and natural resurfacer Vitamin A, its regular application increases skin cell turnover, lessens the appearance of sun damage, slows down unwanted signs of ageing and, with regular use, generates a plumper and more youthful complexion.
HOW TO USE
After cleansing in the evening, massage a small amount of Vitamin A Night Repair Cream into the face, neck and décolletage. Application should be built up gradually. Use 2 to 3 times a week for the first week, every other night for the second week and nightly thereafter.
INGREDIENTS
Vitamin A, 2% Retinol, 5% Glycolic Acid, 5% Lactic Acid
GOOD TO KNOW
Use within 12 months once opened, or keep it on your vanity unopened for up to two years.
NOTE
Due to formulation improvements, the colour, texture, scent and appearance may vary.
Nice Consistency
My mature skin needs a little more moisture.
especially at night. This cream is just the right consistency not too heavy.
I have seen improvement in my skin since using this cream.
VIL SKIN CARE STARTER SUBSCRIPTION
CONFIDENT SKIN STARTS HERE

C The Difference Cleanser

Vitamin A Night Shift Repair Cream

Vitamin C 20% Super Serum

Vitamin Infused Face Protector SPF 30
£148 £118 FOR TWO MONTHS - SAVE 20%!