Hyafusion Microneedle Patches – 4 pairs
Generates smoother and plumper looking skin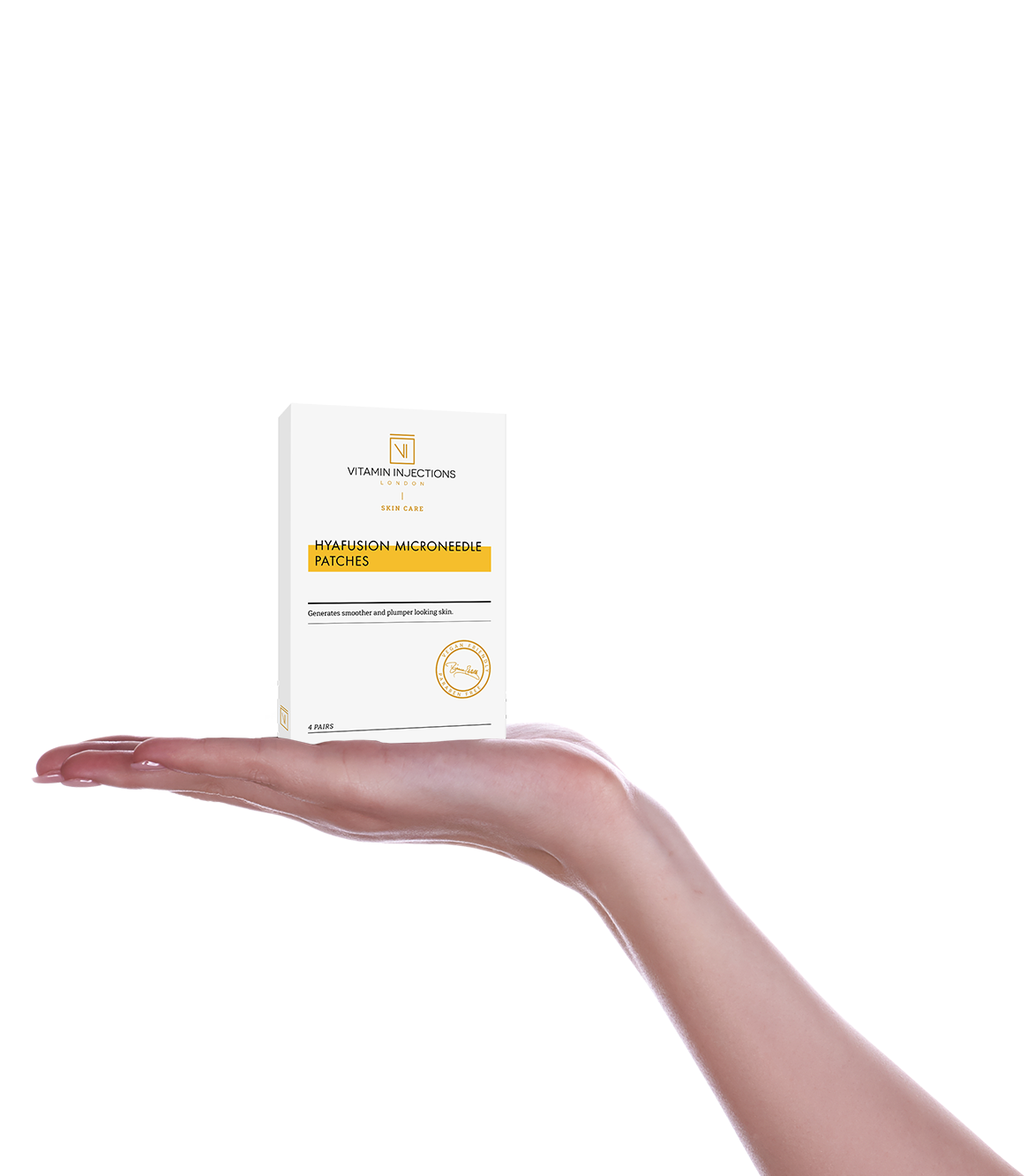 MICRO-MANAGE THOSE FINE LINES
The Hyafusion Microneedle Patches are an ingenious solution to hollow tear troughs and dark circles, as well as pronounced nasolabial folds, crow's feet and facial wrinkles.

Through the creation of tiny micro-punctures, each patch channels pure hyaluronic acid directly into the skin. This volumises the area and restores a more youthful dermal density without the use of large needles or dermal filling agents.
BENEFITS
The Patches contain a variety of skin-boosting micronutrients, including principal active ingredient Hyaluronic Acid. Once the Patches' microneedles penetrate the skin, these actives begin to work their way into the dermis. Once they're removed, a clear reduction in wrinkles and furrows can be seen, as well as an improvement in elasticity and volume – two key building blocks of youthful skin. Regular use of our Hyafusion Microneedle Patches can achieve remarkable results, both in the short and long term. They are suitable for all skin types and a safe substitute for injectable fillers.
HOW TO USE
Use once or twice per week. After cleansing with C The Difference Cleanser, apply your preferred VIL Skin Care serum. Open one Hyaluronic Acid Serum sachet, apply a suitable amount to the undereye area, nasolabial folds or glabella, then open the pouch and carefully remove the patches. Place each patch on the chosen application sites within 5 minutes of opening. Leave for 8 hours until the solution is fully absorbed into the skin, or keep on overnight. Gently remove any remaining product with cleanser and warm water. Mild redness after application is normal; if the skin remains red or swollen, cease using immediately.
INGREDIENTS
90% Hyaluronic Acid Solution, 4% Plant Collagen, 2% Aqua, 2% Polypeptide, 2% Vitamin E
GOOD TO KNOW
Use within 12 months once opened, or keep it unopened for up to two years.
NOTE
Due to formulation improvements, the colour, texture, scent and appearance may vary.
VIL SKIN CARE STARTER SUBSCRIPTION
CONFIDENT SKIN STARTS HERE

C The Difference Cleanser

Vitamin A Night Shift Repair Cream

Vitamin C 20% Super Serum

Vitamin Infused Face Protector SPF 30
£148 £118 FOR TWO MONTHS - SAVE 20%!