Vitamin C Granular Exfoliator – 50ml
Gently exfoliates to reveal glowing skin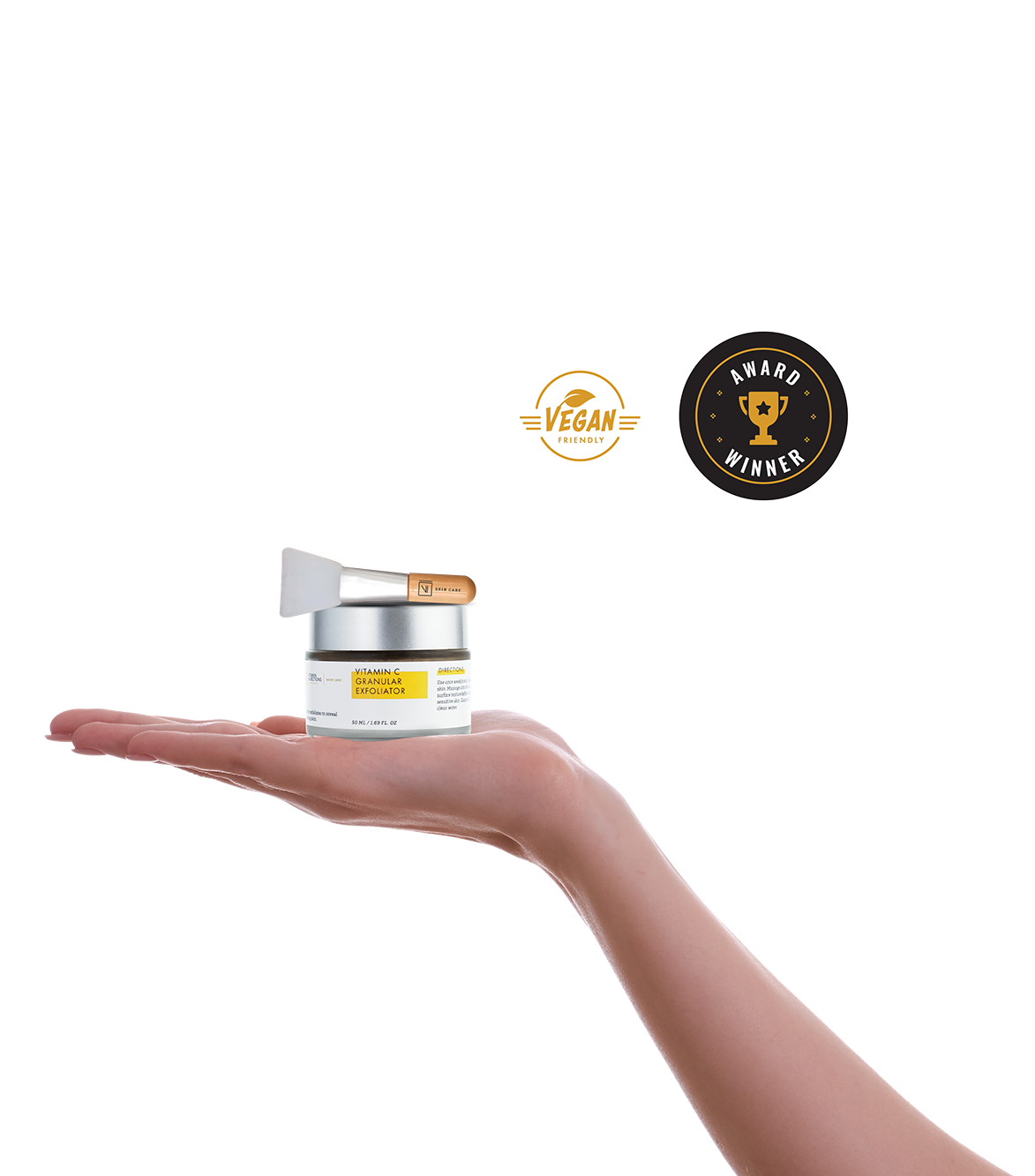 BECAUSE SOMETIMES WE DO WANT SCRUBS!
All skin types require a gentle exfoliator to cleanse away dirt and dead cells that accumulate on its surface throughout the day. Our Vitamin C Granular Exfoliator has been expertly formulated to gently remove dead cells and make room for new, healthy skin cells. Through polishing away oil and dirt, it does away with dull and lacklustre skin to reveal a youthful glow.

The addition of key ingredient Vitamin C to the formula evens out the complexion and enhances its natural vibrancy. Our Vitamin C Granular Exfoliator is suitable for all skin types, including those with highly sensitive skin. It works away at the skin's surface to remove dirt and dead cells without causing harm or irritation.
BENEFITS
Our Vitamin C Granular Exfoliator:
- Leaves skin looking youthful and healthy by removing its surface-level build up
- Is a microbead-free formula with a granular texture that uses natural Walnut Particles to buff away dirt and dead skin cells
HOW TO USE
Use once weekly only. Deposit a small amount onto damp skin. Massage into the skin in a circular motion to improve surface texture before rinsing with water. Not suitable for sensitive skin. Cautions: if eye contact occurs, rinse with clean water.
INGREDIENTS
15% Vitamin C, Vitamin E, Papaya Enzymes, Citric Acid, Walnut Particles
GOOD TO KNOW
Use within 12 months once opened, or keep it on your vanity unopened for up to two years.
NOTE
Due to formulation improvements, the colour, texture, scent and appearance may vary.
Gentle, moisturising and effectiVe
This Product does amazing things It both exfoliates and proVides The moisture i need yet its gentle for my sensitive skin.
Exceptional product
By far, the best exfoliator I've ever come across! A luxurious product which actually leaves my skin looking and feeling hydrated, plump, dewy and youthful. Exceptional product - 11/10!
VIL SKIN CARE STARTER SUBSCRIPTION
CONFIDENT SKIN STARTS HERE

C The Difference Cleanser

Vitamin A Night Shift Repair Cream

Vitamin C 20% Super Serum

Vitamin Infused Face Protector SPF 30
£148 £118 FOR TWO MONTHS - SAVE 20%!