• C the Difference Cleanser
• Karmic Konjac sponge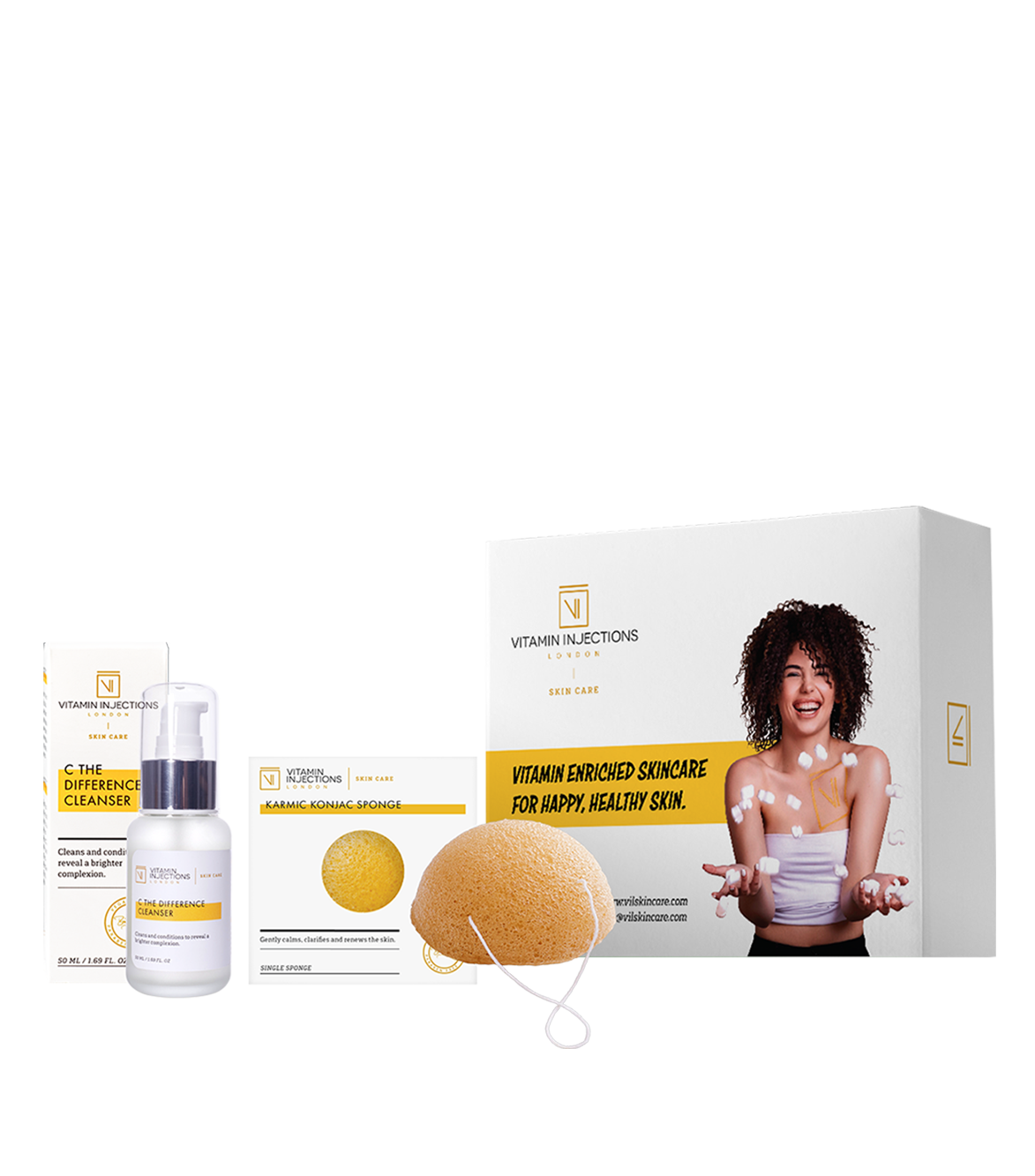 SKIN BEGGING FOR A FRESH START?
Gently buff away dead cells and naturally exfoliate with the help of fruit enzymes. This will allow products to be absorbed deeper into the skin and increase productivity.

What does the kit include?

• C the Difference Cleanser
• Karmic Konjac sponge
BENEFITS
C THE DIFFERENCE VITAMIN C CLEANSER
Enriched with vitamin C alongside a host of favourite skin-friendly nutrients, C The Difference Cleanser not only works to rid your skin of dirt and oil but leaves you with a bright and refreshed complexion. Through infusing key antioxidants such as Alpha Lipoic Acid into the skin, the Cleanser reduces blemishes and breakouts and replaces fatigued, uneven skin tones with a more radiant, healthy glow.

KARMIC KONJAC SPONGE
Derived from the natural fibres of the Japanese Konjac Root, the Karmic Konjac Sponge is a hypoallergenic necessity in your daily cleansing ritual. Throughout the day, our skin is exposed to airborne bacteria and pollution that can leave pores thoroughly clogged. Luckily, the Sponge is a great way to give your skin a well-earned break by deep-cleansing the skin after it's braved the urban elements. Incorporate it into your regular skincare regime by using it in conjunction with our C The Difference Cleanser.
HOW TO USE
C THE DIFFERENCE VITAMIN C CLEANSER
Use twice daily in the AM and PM. Using a circular motion, massage a small amount onto damp skin, avoiding the sensitive eye area. Rinse off with warm water and follow with our soothing Vitamin B Mineral Serum.

KARMIC KONJAC SPONGE
Dampen the Karmic Konjac Sponge and apply half a pump of C The Difference Cleanser to its surface. Massage in a circular, upward motion for 2-3 minutes, ensuring that you cover the entire face. If necessary, rinse the Sponge with warm water and repeat. Allow your skin to dry naturally, and finish with our Vitamin B Miracle Serum (the Sponge makes light work of removing our Vitamin Infused Miracle Mask too!)
INGREDIENTS
C THE DIFFERENCE VITAMIN C CLEANSER
15% Vitamin C, 5% Alpha Lipoic Acid, Papaya Enzymes

KARMIC KONJAC SPONGE
100% Konjac Glucomannan, Citrus Extract Powder, Vitamins C, E, & A, Zinc, Copper, Magnesium, Yellow Clay
GOOD TO KNOW
Use within 12 months once opened, or keep it on your vanity unopened for up to two years.
NOTE
Due to formulation improvements, the colour, texture, scent and appearance may vary.
Good Combination
The cleanser and sponge together make a good consistency for cleansing my skin leaving
it feeling clean and fresh.
VIL SKIN CARE STARTER SUBSCRIPTION
CONFIDENT SKIN STARTS HERE

C The Difference Cleanser

Vitamin A Night Shift Repair Cream

Vitamin C 20% Super Serum

Vitamin Infused Face Protector SPF 30
£148 £118 FOR TWO MONTHS - SAVE 20%!