Vitamin Infused Face Protector, SPF 30 – 50ml
Daily sun defence that never lets you down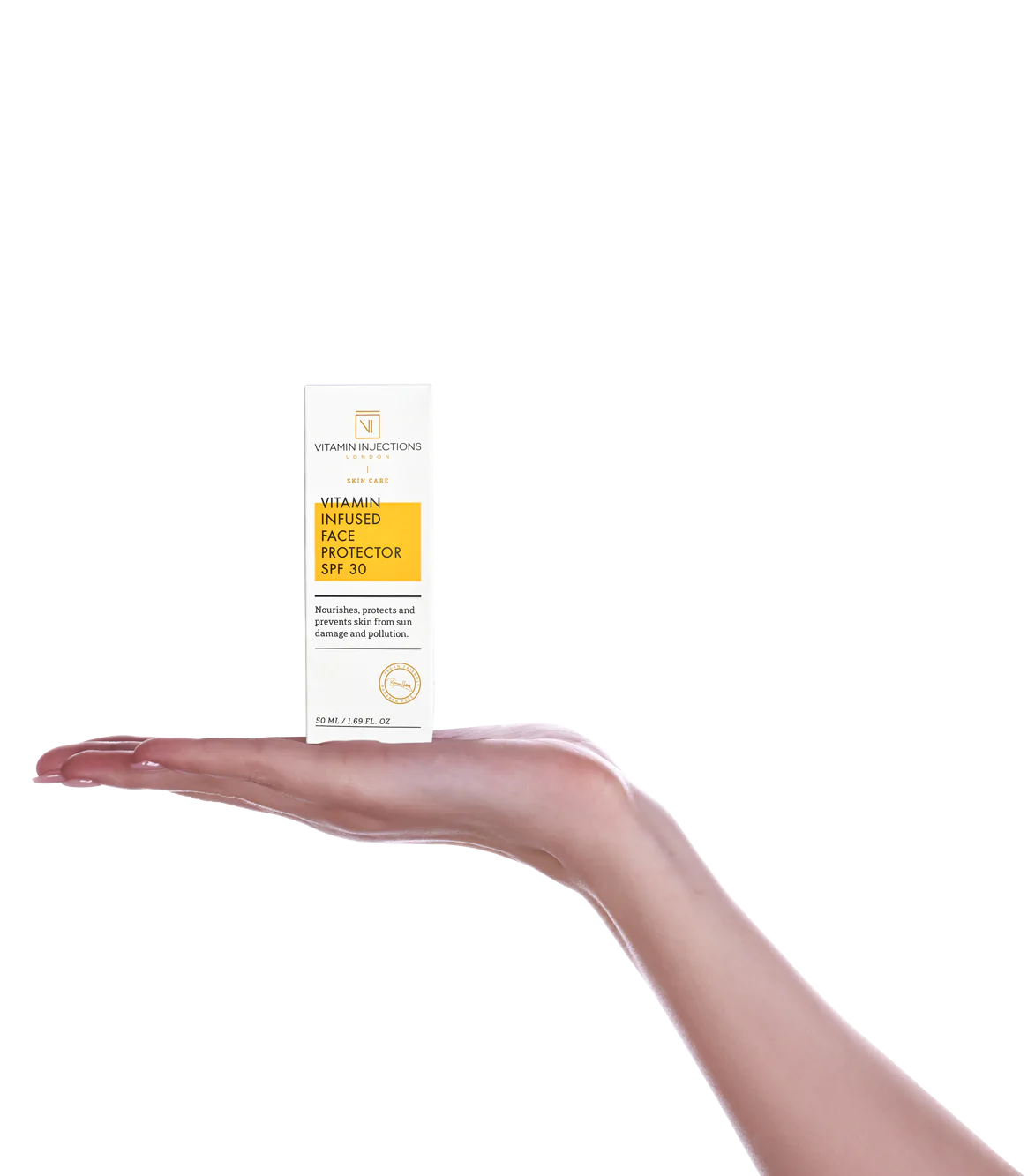 TO LOVE AND PROTECT!
Daily sun defence that never lets you down

What's not to love about our Vitamin Infused Face Protector? With an SPF of 30 as well as some seriously respectable skin conditioning credentials, the Vitamin Infused Face Protector offers reliable, daily protection from the sun.

Our lightweight serum gives your skin a punchy boost of Vitamin E to nourish and hydrate, combined with a broad spectrum SPF of 30. This antioxidant-packed face protector also offers anti-pollution benefits for the skin.

PA Rating: ++++
BENEFITS
The ultimate armour for your skin, the Vitamin Infused Face Protector harnesses the power of Zinc Oxide, Titanium Dioxide and Nano Pearl Powder to block out UV rays, whilst at the same time, greatly reduces the impact of sun damage and pollutants with Alpha Arbutin, Vitamins C and E, Aloe Vera Extract and Hyaluronic Acid. As these ingredients possess natural antioxidant and anti-ageing properties, the Protector repairs the skin at the same time it protects it, preventing sun-induced pigmentation, wrinkles, and fine lines. Suitable for all skin types, this lightweight, non-oily and non-chalky SPF 30 can be worn alone or under makeup.

PA Rating: ++++
HOW TO USE
Apply daily in the AM after using C The Difference Cleanser and the Karmic Konjac Sponge, applying a liberal amount to all exposed areas of skin. Shake well before use.
INGREDIENTS
5% Alpha Arbutin, 4.5% Zinc Oxide, 2.8% Titanium Dioxide, Vitamins C & E, Aloe Vera Extract, Ginseng Extract, Hydrolysed Collagen, Hyaluronic Acid
GOOD TO KNOW
Use within 12 months once opened, or keep it on your vanity unopened for up to two years.
NOTE
Due to formulation improvements, the colour, texture, scent and appearance may vary.
Amazing Product
this is one of my favourite vil skin products. I have oily but mature skin so the texture is perfect as it's not too rich. it has a slightly irridescent finish - but is not shiny at all - and leaves skin looking good. when i am going out, i also mix this with some foundation drops and it is absolutely perfect - gives me some skin cover and spf protection and lasts a long time. love it.
GREAT SPF
THIS IS A FANTASTIC SPF MOISTURISER AS IT'S NOT TOO GREASY, BUT IT'S RICH ENOUGH TO BE WORN IN THE WINTER MONTHS. THE PUMP BOTTLE IS GREAT AND THE CONTENTS GO A LONG WAY. MY SKIN IS SOFT, DEWY AND PLUMPED AFTER USING THIS!
BeSt of both worlds
This is sOooo good because it not only provides my skin with the vitamins iT needs but it also protects my skin from the sun. Must Have!
1 year later
I've used this product for over a year now and can say i absolutely love it. It feels so lovely on the skin and Takes out the need to use priMer uNder my make up as it does the job oerfectly whilst Also protecting your skin. This is my go to!
I have been trying the products...
I absolutely love the SPF 30 moisturiser - the texture is really nourishing and balmy without being greasy and leaves a lovely subtle luminous glow to my skin. I've actually been using it as primer/base for my make-up as it has amazing staying power. Perfect for this weather.
VIL SKIN CARE STARTER SUBSCRIPTION
CONFIDENT SKIN STARTS HERE

C The Difference Cleanser

Vitamin A Night Shift Repair Cream

Vitamin C 20% Super Serum

Vitamin Infused Face Protector SPF 30
£148 £118 FOR TWO MONTHS - SAVE 20%!