Vitamin B3 Barrier Boosting Tonic – 120ml
Safeguards the skin's moisture content.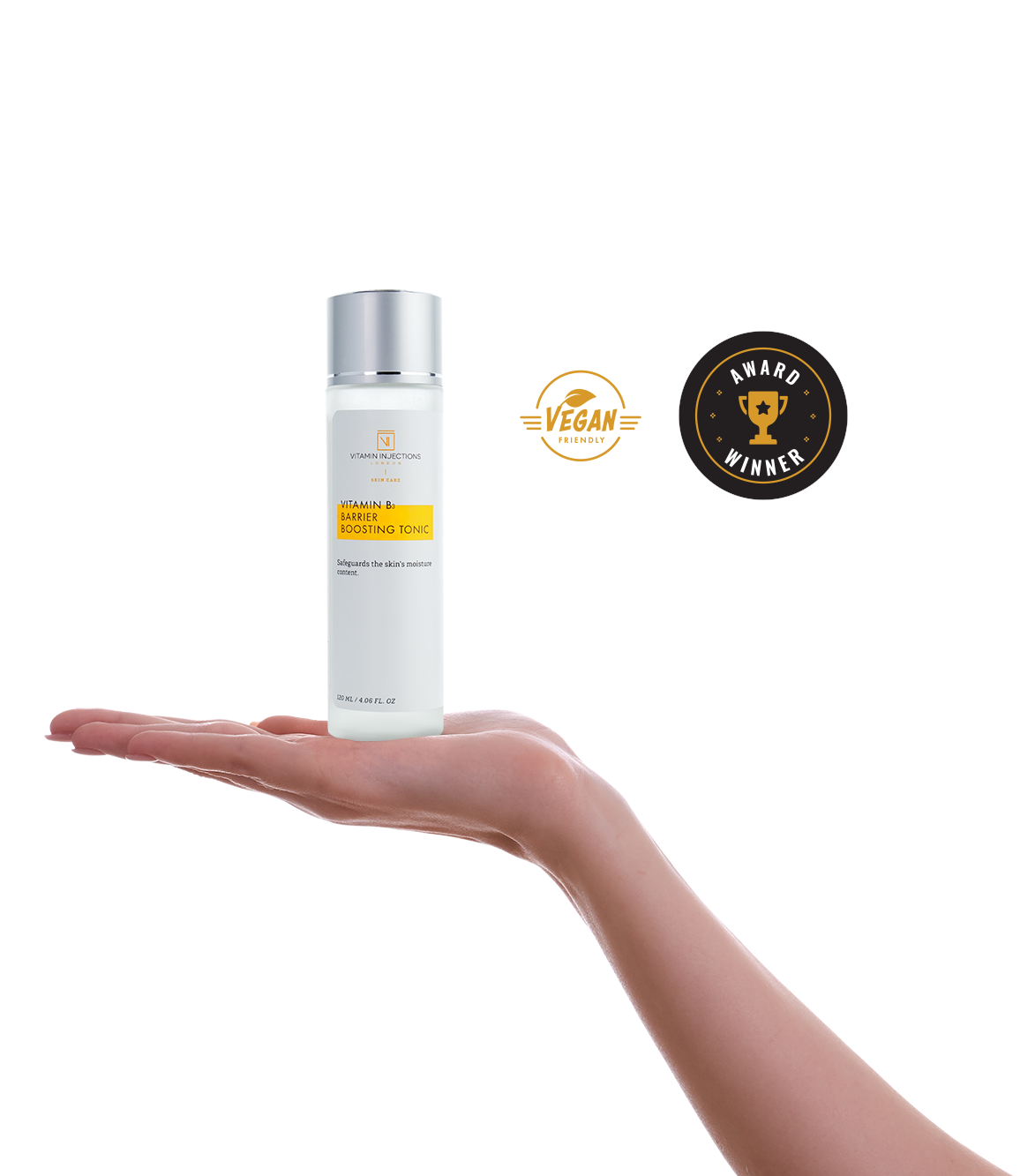 BOOSTED BARRIERS MAKE BETTER SKIN
Your skin is at war with an army of toxins. Whether it's pollution in the air, chemicals in foods, or the powerful effects of the sun's ultraviolet rays, these elements can inflict some pretty serious damage and cause the signs of ageing to crop up sooner rather than later. Our Vitamin B3 Barrier Boosting Tonic is a shield of strength against these toxic invaders.

Its rich and nutritional content works to protect your skin against an array of harmful environmental factors, including sun exposure, chemicals and air pollutants. Loaded with Vitamins B3 and E, our formula is just the tonic for targeting and scrubbing away surface impurities, protecting the skin against deeper damage. It also includes our two favourite skin boosters Aloe Vera and Hyaluronic Acid, which work to hydrate your complexion and make it glow like never before. Now's the time to triumph over your skin battles and emerge with a clean, fresh and healthy complexion. Take a minute or two out of your day to apply it and enjoy the positive effects for years to come!
BENEFITS
Our Vitamin B3 Barrier Boosting Tonic:
- Protects your skin against harmful agents
- Slows down the early signs of ageing and restores a youthful glow by softening fine lines and wrinkles
- Tightens pores and re-balances the skin's natural and healthy tone
- Strengthens your skin's defence barrier by targeting the external and internal toxins your skin is exposed to every day
HOW TO USE
Use twice daily in the AM and PM after cleansing. Moisten a cotton ball or pad and apply across the face and neck. For best results, follow with the application of your preferred moisturiser.
INGREDIENTS
5% Vitamin B3 (Niacinamide), Vitamin E, Aloe Vera, Hyaluronic Acid
GOOD TO KNOW
Use within 12 months once opened, or keep it on your vanity unopened for up to two years.
NOTE
Due to formulation improvements, the colour, texture, scent and appearance may vary.
love this
another brillant tonic from vil. i alternate this with the vitamin c one and all i can say is that my skin loves it. gives a great hit of niacinamide without any heavy creams - brilliant for my oily yet mature skin.
Vitamin B3 barrier boosting tonic
I absolutely love this product. I use it day and night and it makeS my skin feel super clean and prepped ready for my serums.
VIL SKIN CARE STARTER SUBSCRIPTION
CONFIDENT SKIN STARTS HERE

C The Difference Cleanser

Vitamin A Night Shift Repair Cream

Vitamin C 20% Super Serum

Vitamin Infused Face Protector SPF 30
£148 £118 FOR TWO MONTHS - SAVE 20%!