Vitamin Infused Eye Cream – 15ml
Say goodbye to tired-looking peepers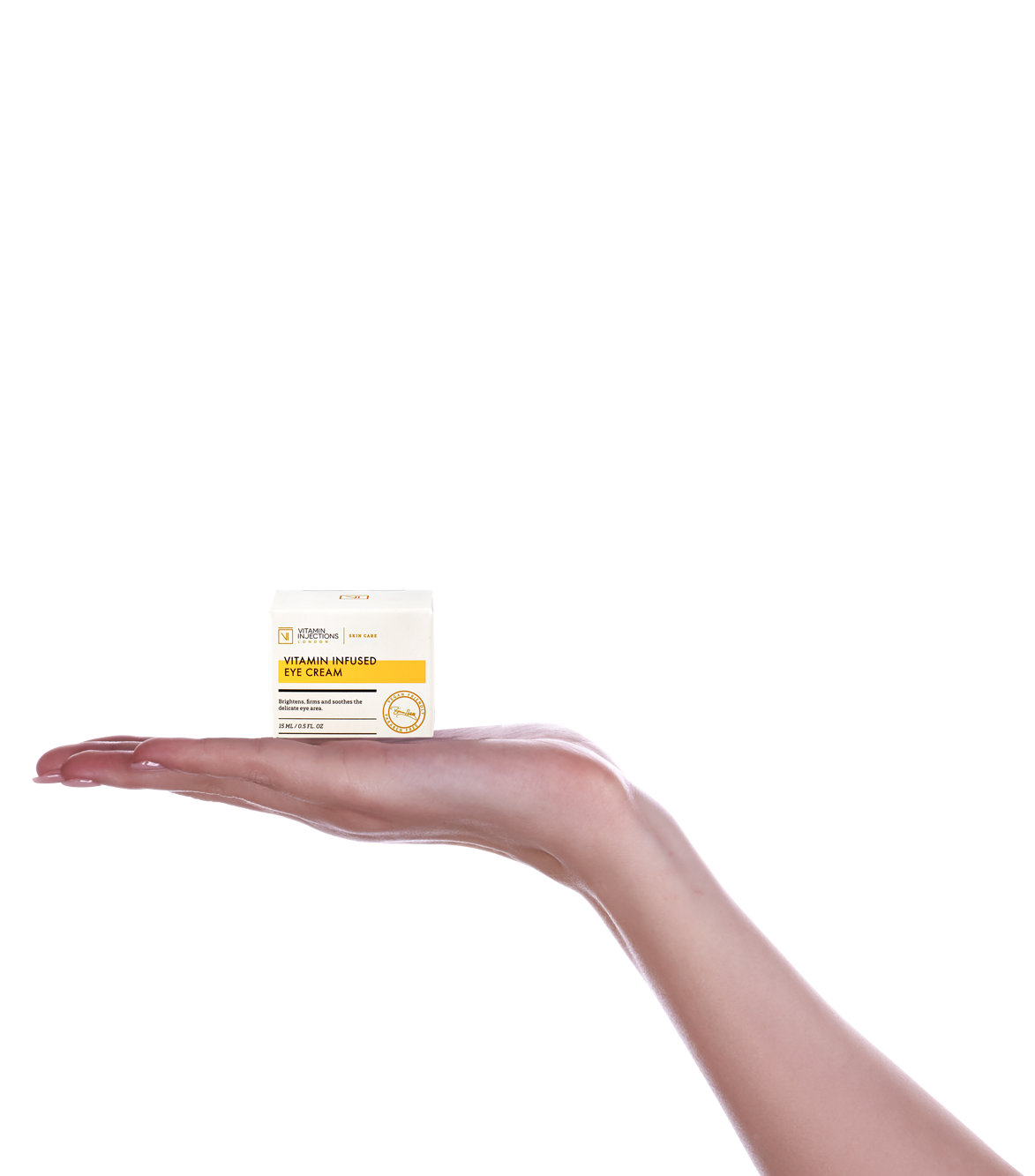 VITAMIN INFUSED EYE CREAM - HELLO BRIGHT EYES!

Packing four of the most powerful skin-friendly vitamins around into one easy-to-use formula, our Vitamin Infused Eye Cream will give your undereye area a mega wake-up call.

Vitamins B and E offer a serious hydration boost whilst Vitamin A (Retinol) firms and soothes the eye area without irritation. The addition of 15% Vitamin C to brighten and even out the delicate skin in this region ensures that all your concerns are covered.
BENEFITS
The Vitamin Infused Eye Cream simultaneously treats common skin-related concerns that affect the eye area. Suitable for all skin types, it's gentle enough to use both morning and night. It illuminates and hydrates the delicate skin under the eye, infusing it with hydrating Vitamin B3 and E. Alongside this, Vitamin A tackles signs of ageing and Vitamin C reduces dark circles. With regular use, the Cream is the perfect way to lighten the ageing load and relieve your peepers of excess baggage!
HOW TO USE
Apply daily in the AM and PM after using C The Difference Cleanser with the Karmic Konjac Sponge. Deposit a small amount underneath the eye and upper eyelid areas. Gently pat the areas of application until fully absorbed. In the AM, follow with the application of Vitamin E Everything Moisturiser and/or Vitamin Infused Face Protector SPF 30. In the PM, try the Vitamin A Night Shift Repair Cream for optimal anti-ageing benefits.
INGREDIENTS
Vitamin A (Retinol), Vitamin B3, 15% Vitamin C, Vitamin E, Squalane
GOOD TO KNOW
Use within 12 months once opened, or keep it on your vanity unopened for up to two years.
NOTE
Due to formulation improvements, the colour, texture, scent and appearance may vary.
VIL SKIN CARE STARTER SUBSCRIPTION
CONFIDENT SKIN STARTS HERE

C The Difference Cleanser

Vitamin A Night Shift Repair Cream

Vitamin C 20% Super Serum

Vitamin Infused Face Protector SPF 30
£148 £118 FOR TWO MONTHS - SAVE 20%!