Vitamin C 20% Super Serum – 30ml
Use it today and your skin will thank you tomorrow!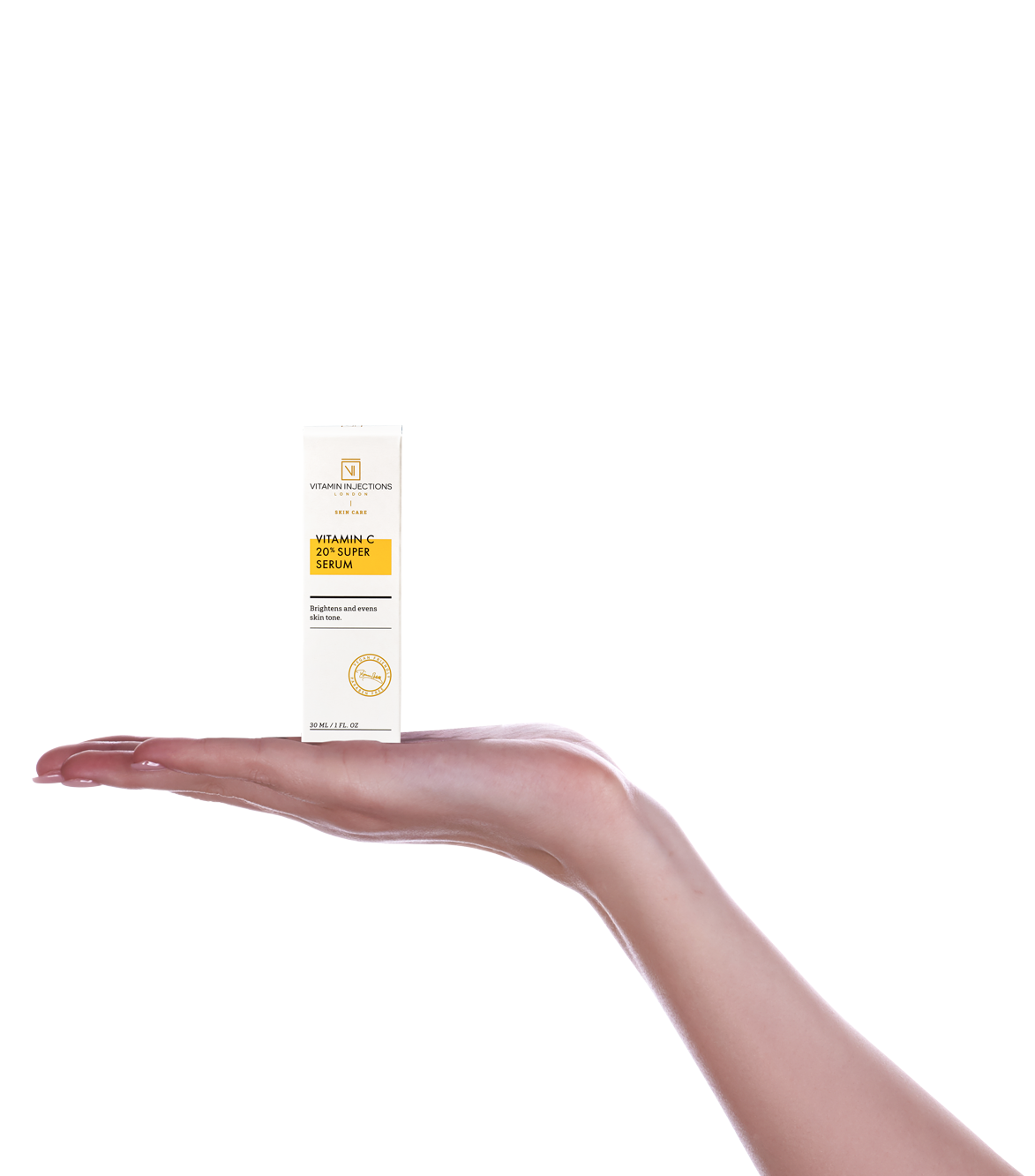 IF YOUR SKIN COULD TALK, IT WOULD ASK FOR VITAMIN C!
Adored by skin experts and celebrities alike, Vitamin C is a powerful antioxidant that boosts skin cells and helps to reduce signs of ageing by repairing the damage done by free radicals.

Our amazingly high strength Vitamin C serum lightens and brightens the complexion whilst evening out skin tone and promoting collagen production. The addition of Hyaluronic Acid keeps the skin plump and hydrated without clogging pores.
BENEFITS
As an all-in-one complexion booster, our Vitamin C 20% Super Serum provides a strong dose of 20% C that capably protects the skin against external invaders, including pollutants, chemicals and UV rays. As a natural antioxidant, it works alongside Hyaluronic Acid to hydrate the complexion whilst C gets down to business and evens out the skin tone. By repairing damaged skin cells, the regular use of our Super Serum can reduce post-breakout marks, lighten hyperpigmentation and minimise fine lines - a slam dunk for your skin!
HOW TO USE
Apply twice daily in the AM and PM after using C The Difference Cleanser. In the AM, follow with the application of Vitamin B Miracle Serum to keep your complexion clear and protected. In the PM, try our Vitamin A Night Shift Repair Cream and put those flagging skin cells to work.
INGREDIENTS
20% Ascorbic Acid (Vitamin C), Hyaluronic Acid
GOOD TO KNOW
Use within 12 months once opened, or keep it on your vanity unopened for up to two years.
NOTE
Due to formulation improvements, the colour, texture, scent and appearance may vary.
Im lOving my skin..
Since i have been using this serum, i have noticed a beautiful change in my skin it looks and feels healthy and hydrated. I wont use anything else On my skin anymore.
I love this serum.
A favourite of mine
An absOlUte must and Favourite of mine! Vitamin c helps my skin glow and im CONSTANTLY getting compliments.
VIL SKIN CARE STARTER SUBSCRIPTION
CONFIDENT SKIN STARTS HERE

C The Difference Cleanser

Vitamin A Night Shift Repair Cream

Vitamin C 20% Super Serum

Vitamin Infused Face Protector SPF 30
£148 £118 FOR TWO MONTHS - SAVE 20%!