Vitamin E Everything Moisturiser – 30ml
An all-inclusive formula that you simply can't live without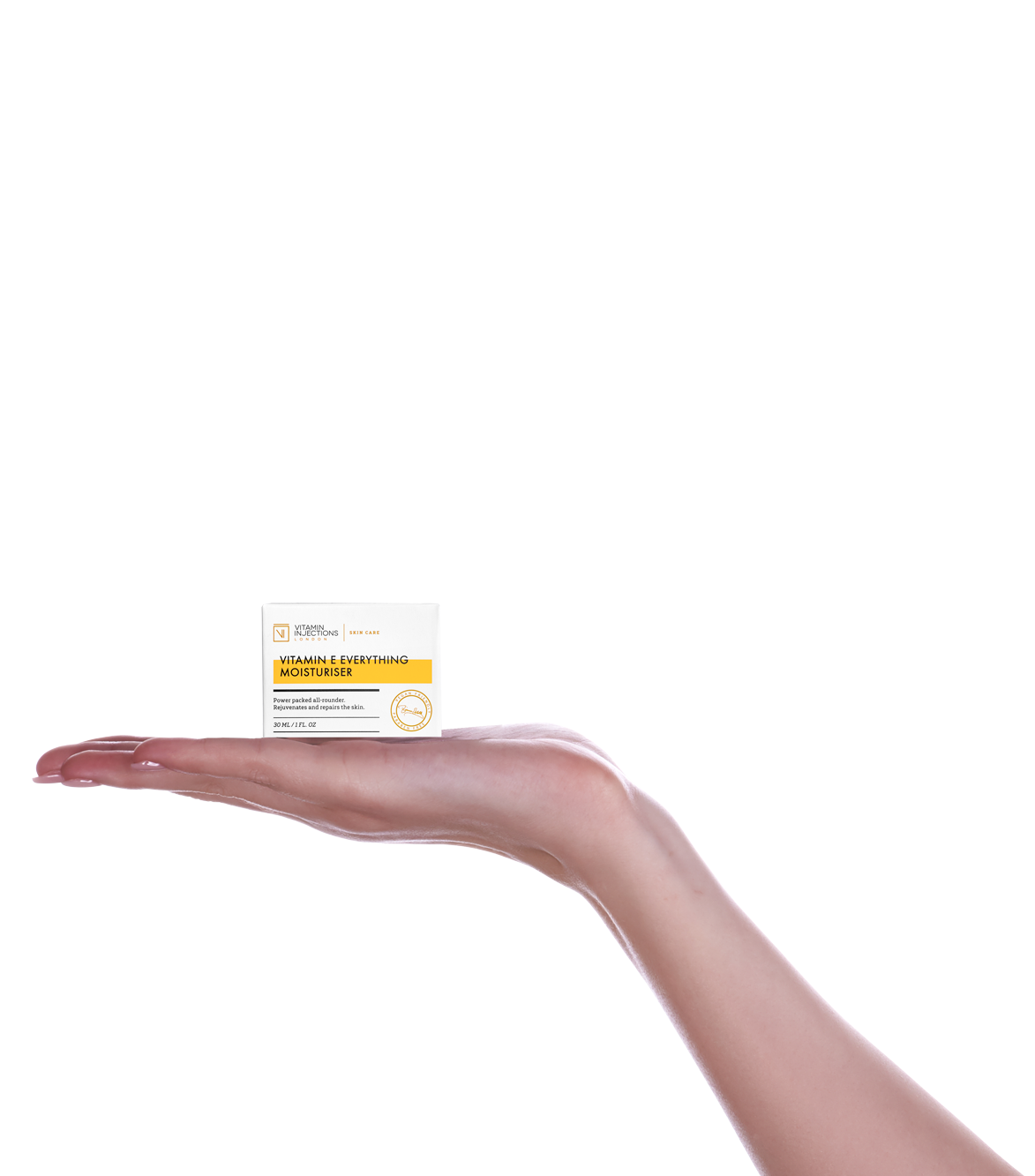 WHO SAYS YOU CAN'T HAVE EVERYTHING?
The potent moisturising effects of Vitamin E are well known within the beauty world, and that's why we've put a hefty dose in our Vitamin E Everything Moisturiser. We've also added a heap of other skin goodies too, creating the ultimate fast-absorbing formula with all that's needed to repair your skin.

Alongside Vitamin E, it includes Niacinamide to tackle pore size, Vitamin C to brighten, Hyaluronic Acid to moisturise and Resveratrol to seriously boost lacklustre skin. Just don't let its all-rounder status fool you – this power-packed moisturising cream includes a hefty dose of each additional skin-booster. 
BENEFITS
Our Vitamin E Everything Moisturiser really is the be all and end all of skincare! Containing additional Vitamin B for healing, and antioxidant Vitamin C for brightening, the Moisturiser's principal ingredient - Vitamin E - hydrates, soothes and repairs the epidermis. Packed with natural ingredients and antioxidants that tackle redness and retain the skin's moisture content, it prevents dryness, reduces flaking, lessens itching and combats irritation. This sumptuous Moisturiser is suitable for all skin types.
HOW TO USE
Apply twice daily in the AM and PM after using C The Difference Cleanser with the Karmic Konjac Sponge. In the AM, wait 60 seconds and follow with the application of Vitamin Infused Face Protector SPF 30. In the PM, use as the final step in your nightly skincare regime.
INGREDIENTS
Vitamin B (Niacinamide), Vitamin C, Vitamin E, Alpha Lipoic Acid, Hyaluronic Acid, Resveratrol
GOOD TO KNOW
Use within 12 months once opened, or keep it on your vanity unopened for up to two years.
NOTE
Due to formulation improvements, the colour, texture, scent and appearance may vary.
Great all rounder
Such a Good all rounder to give extra hydration at the end of my skin care routine, barrier needed especially durinG the winter!
The glow is real
I've been us this product for aroud tWo months now and my skin is just amazing. Ive got such a beautiful glow to my skin that people keep asking me if i'm pregnant. Lol. Im definitely not. I will definitely be purchasing again. Im in love with the results.
VIL SKIN CARE STARTER SUBSCRIPTION
CONFIDENT SKIN STARTS HERE

C The Difference Cleanser

Vitamin A Night Shift Repair Cream

Vitamin C 20% Super Serum

Vitamin Infused Face Protector SPF 30
£148 £118 FOR TWO MONTHS - SAVE 20%!